Everybody Love Everybody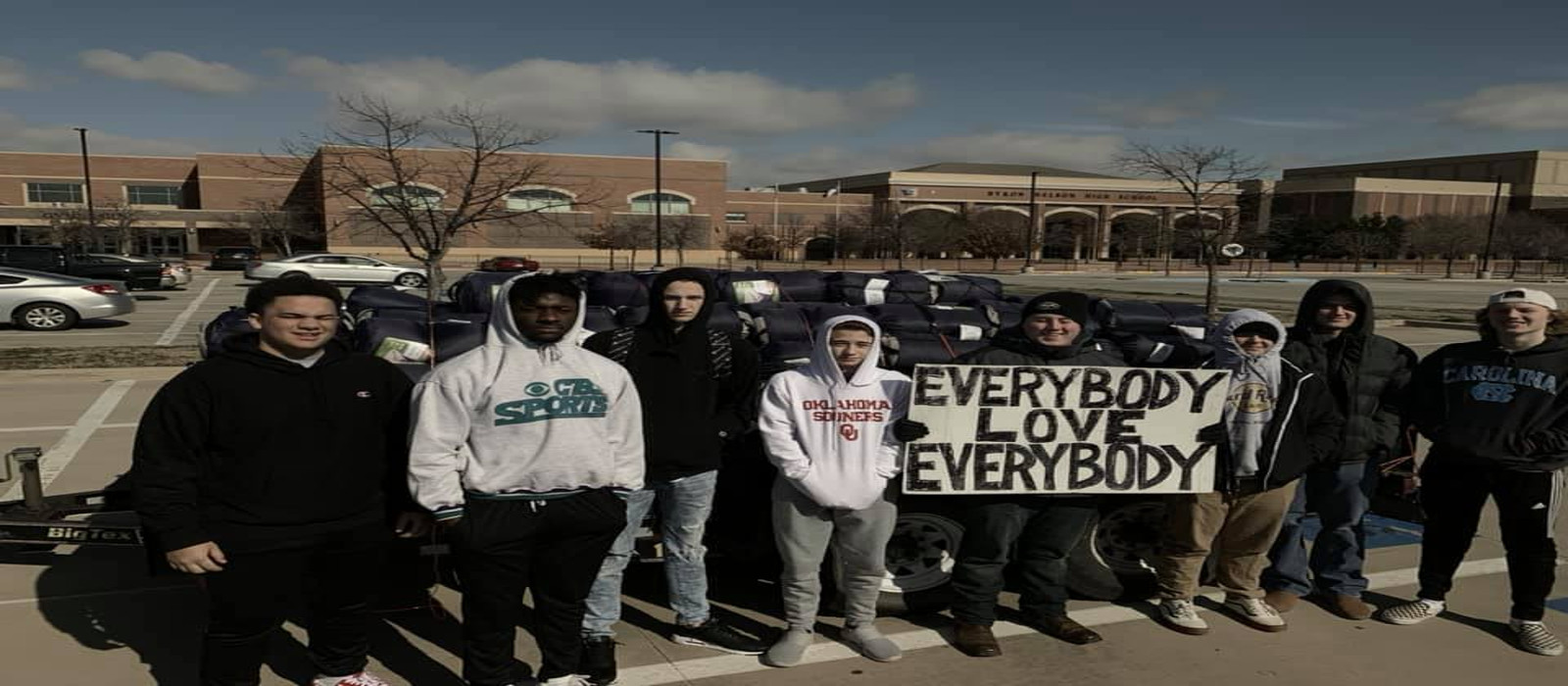 Everybody Love Everybody. Such a simple concept has changed the lives of so many. Chris Bailey is just your every day man who saw a need and felt compelled to fill it. It all started for him sixteen years ago when his son was a small child, Chris wanted to make room for new toys from the holidays and in that effort, he wanted to find new homes for the old toys.
"I loaded them in my trunk and drove over to the housing projects in Ft. Worth. When I pulled in, I wasn't sure how I would be received. When I got out of the car, I immediately started getting a bunch of stares. When I started taking toys out of my trunk, I got covered up like ants at a picnic. The kids LOVED the toys. They didn't care (or even notice) that they weren't new. I decided this was SO EASY that I would start doing this every year." said Bailey.
A few years went by and Facebook became the go to social media site. Chris used that platform to share his work with his friends and family by telling them what he was doing for those in need and asked them if they had any toys to donate to this cause. People jumped at the chance to help, but they didn't want to stop with just donating the toys; they wanted to participate. The group decided on a meeting place and from there caravanned to the housing projects in about 10 vehicles – all loaded down with toys.
Fast forward to present day, Bailey and his fellow volunteers now have two 26-foot-long UHauls and anywhere from sixty to seventy vehicles visiting these under privileged living developments to deliver toys.
"Six years ago, I started dressing up as Santa to hand out the toys. That made it even more awesome. We also stared a GoFundMe page for the toy drive for people that live somewhere else or don't have toys to donate. Last year, in just 4 weeks (Thanksgiving to Toy delivery day) we raised $12,000. Part of that is used to pay for the trucks. ALL the rest is used to buy NEW bikes for all of the kids."
Upon visiting a gas station one cold, windy December evening eight years ago, Bailey again was presented with the opportunity to serve his fellow man. There was a homeless man standing outside the building in 35-degree weather.
"I asked him if he was hungry, and he said yes. There was a fast-food place next door. I told him to come over to the fast-food place, and I would feed him. He was very appreciative for the meal, but even more appreciative that he could now sit inside the restaurant without loitering."
It was in that moment that Chris decided to make a New Year's Resolution to feed or help at least one homeless person a week. Fifty-two people per year would find themselves fed and comfortable, even if just for a night, through the compassion of Chris Bailey. The more he thought about it, the more that number seemed too small. As time has gone by, Bailey has made it his mission to reach out to as many people as possible.
"Last year, I was able to help or feed about 2500 people. It can be something as simple as keeping a package of Chapstick in the car to give to them. Giving out an umbrella to them when it's raining or when they need shade. Keeping bottled water in the car is super easy. Handing out bananas is really cheap and gives them the nutrition they need." he said.
Everybody Love Everybody has taken flight through the years, and their most recent outreach was providing sleeping bags to hundreds of homeless citizens in their area. They passed out sleeping bags and nearly 1000 sandwiches to men, women, and children lining the streets, and they were overwhelmed with love from those who benefitted from these donations.
If you want to help this group of individuals change the world one sleeping bag, one sandwich, or one person at a time, visit their Facebook page: Everybody Love Everybody
---
Comments
---